At the behest of my dear friend, I return to my beloved, and sadly neglected, blog-sphere. My poor abandoned blog was such due to a multitude of personal traumas, theatrical debuts and poor time-management.
Theatrically, here's what I've been up to:
My bestie Stephen and I in our best 80s garb
However, there have been things I've wished to share. Of course, now that I sit down to write them all down for you to enjoy - I can think of little.
The biggest news I have is that I have decided to do something drastic (or rather, drastic for me) to my hair. I do not think it's that dramatic, but I do work my day job in a professional office setting. Going against the grain even in the slightest degree is definitely notated. (I am wearing red lipstick today, I've gotten a few prudish stares...)
However, hopefully, I'll have a picture or two of that in the next week or two.... For you folks, I want it to be a surprise (or a secret if it turns out looking wretched on me!) - so here's hoping I can accomplish this next week!
I am planning on giving in and buying patio cushions for my Hey-Wake Ashcraft. I just cannot stand looking at my current couch and chair any longer. They are are such modern-college-student eye-sores on my retro-fabulous apartment. My living room is the only room in my apartment that is bothering me! I think I have narrowed down a few, I am just going to bite the bullet and buy a tester this week, to see how it works.
Here's what I'm thinking for a temporary fix: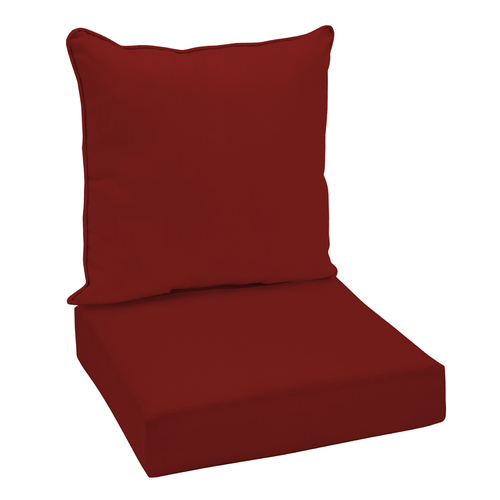 Lowe's Deep Seated Red Patio Cushions
I would still like to re-cover those wretched cushions, or make new ones. But until I get settled into a bigger place where this project can come to fruition, I will have to be satisfied with patio cushions. Any other recommendations?
It feels good to be back and writing again. Reading every one's lovely blogs is therapeutic to me. Until I get my brain screwed on, my hair done and my cushions bought - here is a hair style and two outfits that I was particularly happy with recently.
Date Night
Curling Iron Coiffure
Lily - My Baby Jo
Dress - Bettie Page Clothing, via Donna's Dress Shoppe
Bracelet - Gift from boyfriend's parents




Saturday Afternoon at the Library
Shirt/Skirt - Vintage
Camisole - Forever 21
Shoes - Lovely People, via boyfriend
Casual Evening and Post-Show Bar Ensemble
Off shoulder peasant blouse - Arizona Trading Co
Belt - My Baby Jo
Skirt - Vintage
Shoes - Charlotte Russe, circa 2011
Bangles - Bakelite/Plastic
Hopefully we'll meet again soon, mes petites choux!