Ma Mère
One of my inspirations and primary reasons I wear, dress and am vintage obsessed,
my mother
took me to Kansas City this weekend to shop, get lost and have some fun and
we sure did
.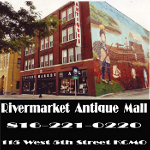 We left early on Sunday and got to KC by noon...ish and started right away at
River Market Antique Mall
, where my Aunt Linda has a booth. It is glorious, if you ever have a free afternoon in KC, head down to this shop for 3 floors of fascinating antiques.
We GPS-ed our way down to
Good JuJu
,
Bella Petina
and
Liberty Belle
- Also located on this strip was
Re-Runs Vintage
Warehouse, one of its two locations, this vintage clothing mongol was sadly closed on Labor Day weekend, but is open Saturday 10-4. They also have a store open everyday of the week, but unfortunately like many others, not on Labor Day.
Before heading to the hotel, we stopped in Westport at the half price bookstore. I
love
going to discount bookshops, especially if they sell records. Not open, but also located in Westport, was
Boomerang Vintage Clothing.
I've had so many friends recommend this one, next time...
next time
!!!
Back to the hotel, to primp for dinner with my Aunt Linda. My mother is an outstanding light weight. At the hotel bar we received a complementary bar drink, I had a G&T, but I stand by the fact it was predominantly T (
free, nonetheless).
My mom had a cape cod at the Hotel Bar, drank about 1/3 and preceded to provided my Aunt and me with plenty of humor for the remainder of the evening.
Refreshed and relaxed, the next day we started out at the Plaza. Sadly, we never really find anything there. It's too ordinary for me and my mom; however the area is beautiful and it was a gorgeous day to walk around.
Donna's Dress Shop
is located on 39th street. If you're into vintage and reproduction, this is an adorable place to go. Wichita needs more places like this boutique. Among the selection there were some Bernie Dexter, Stop Staring, Bettie Paige and Vintage pieces from the 40s to the 70s. Although the selection didn't take very long to get through, the lay out was very clean and beautifully arranged. I spent a pretty penny here, buying on sale three repos: a play suit and two dresses
Found on the same strip as Donna's was Rock Candy Boutique and another store, who's name escapes me, but was closed regardless. Rock Candy, however, had a petite selection, but a very interesting one! I was able to find a cute blouse there and they had the most adorable puppy there too!
On the way back to
vintage-less
Wichita, we stopped in Lawrence. I was surprised to find out my mother had never been there before. I took mental notes on where to take her if we had more time the next time. Sadly, many shops were closed on the holiday, but
Wild Man Vintage
,
Arizona Trading Company
and a few others were open.
Some highlights... well, purchases rather...
Reproduction Playsuit - Beach Bash Retro Wear - Donna's Dress Shop
Reproduction on Sale! Betty Paige Clothing - Donna's Dress Shop

Reproduction Sale - Stop Staring Clothing - Donna's Dress Shop
I've already got someplace special to wear this!

Vintage Summer Blouse - Rock Candy Boutique, $8
Vintage Circle Skirt - Wild Man Vintage $16
Vintage Black Slip - Good JuJu - $5.50

4 books, 2 Records - Discount Bookshop in Westport - $20

Vintage Straw Tote - Liberty Belle -$9.50
Beautiful Vintage Silk Scarf - Wild Man Vintage - $4
Enamel lid to amend my collection - River Market Antiques - $3
Just the lid, these pieces are a progressive collection
Record Stand - River Market Antiques - $15
Very excited about this find, been looking for something similar for ages!
I made out marvelously. I cannot tell you how excited I am to go back... eventually. Unable to afford it at the moment, because I spent my savings this week on an investment piece that I
cannot wait
to share with you all! I must get it cleaned up first.
In the meantime, here is an example of how pooped me and my mom were after our excursion
Elle est sommeil
Stay Tuned!